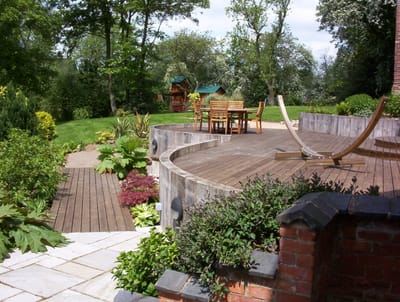 REGISTERED MEMBER OF THE PRESTIGIOUS SOCIETY OF GARDEN DESIGNERSAFFORDABLE PROFESSIONAL GARDEN DESIGN IN DERBYSHIRE AND THE PEAK DISTRICTGARDEN DESIGN PACKAGES TO SUIT DIFFERING BUDGETS AND NEEDS INCLUDING A NEW NATIONWIDE POSTAL DESIGN SERVICE please see details of design packages and pricing in the "Features" area below

"A Garden should be a thing of beauty and a retreat from the pressures of modern day living"
So many people waste money making random purchases and construction projects for the garden without real planning and find themselves dissatisfied with the end result.
Let me help you plan a garden that satisfies your needs and vision and results in a harmonised and attractive end result.
Mike is a Registered Member of the Society of Garden Designers and works on a semi-retired basis so can provide a more affordable and competitive design service.
He has obtained recognised qualifications with Distinction in Garden Design and Horticulture and 25 yr's previous experience in Civil Engineering.
He has proven design and creative skills and is well versed in all matters regarding Construction, Contract Administration, Site Supervision.
THE SOCIETY OF GARDEN DESIGNERS®
The Society of Garden Designers (SGD) has been championing excellence in garden design for over 30 years. It is the only professional association for garden designers in the UK and counts some of the UK's leading garden and landscape designers among its growing membership.
" Whether you want to create a brand new garden or are simply looking for an inspired new planting scheme the Society of Garden Designers® is here to help. Our members work across a range of projects from small courtyards and roof gardens to country estates and urban parks. All the garden designers listed on this website are fully accredited by the Society and have been trained to the highest professional standard. "
WORKING WITH A GARDEN DESIGNER
A SOCIETY OF GARDEN DESIGNERS VIDEO
Please Paste this link in your Browser
https://www.youtube.com/watch?v=zXRumtDAFoE